Approveit vs ApprovalMax: which one is best for your business?
Post-pandemic, as businesses transform radically in an attempt to be more sustainable, COOs, CFOs and other executives are handed additional responsibilities like talent acquisition and retention, securing post-pandemic growth, and reinforcing compliance and risk management. Which translates to a fresh set of challenges for them in 2023.
If you're a COO or a CFO of a company, you can no longer waste your time on tasks like expense approval and workflow management that can be otherwise automated, because your time is better spent on tasks like raising capital and strategizing growth and expansion strategies.
So is there a solution?
Yes, you can use automation software that you can trust and rely on. And we do realise that you don't have the time to find the right one yourself, so here's a comparison blog between Approveit and ApprovalMax.
People often compare them in the marketplace, but the differences are not so evident. So we decided to surface these differences and the unique functionalities of both with our comparison.
Grounds for Comparison
We created a demo organisation to compare Approveit and ApprovalMax and the following metrics were used for the comparison:
Functionalities
UI/UX
Utility
Practicality
Convenience
Primary Use Cases: Approveit and ApprovalMax
Approveit
Purchase Order Approval Management
Bill and Invoice Approval Management
Expense Approval
Vendor Management
Access Control
Hiring Process Automation
Payroll and Performance Appraisal Management
Automated Vacation Approval Framework
File Management and Time-Off Approval Management
Approveit is a holistic automation solution for organizations looking to improve their workflow and save time by creating hassle-free automation systems. This platform is designed to reduce friction for employees and streamline operations for the organisation. It is a powerful tool and doesn't rely on integrations for utility.
ApprovalMax
PO and Bill Approval Management
Approving and Managing Batch Payments
AR and AP Credit Note ApprovalManagement
Sales Invoice Approval Management
Automated Accounting for Better Reporting
ApprovalMax on the other hand is more focused on creating automated financial systems that make financial reporting, audits, and transactions a breeze for everyone. The use cases are more focused on automating manual accounting and setting up approval workflows for bill, expense, sales, and vendor approval. It is part of the reason why ApprovalMax relies so heavily on integrations to materialize its use cases.
Onboarding: First Impressions
Approveit
Approveit claims that it only takes 5 minutes to set up and that's true if your organization has Slack, Microsoft Teams or a Xero account. You can sign-up directly using Slack, Microsoft Teams or Xero and it just takes two clicks to get in. Slack users can directly access all the functionalities of Approveit right from the Approveit bot on their Slack channel with no need to access the web or mobile app.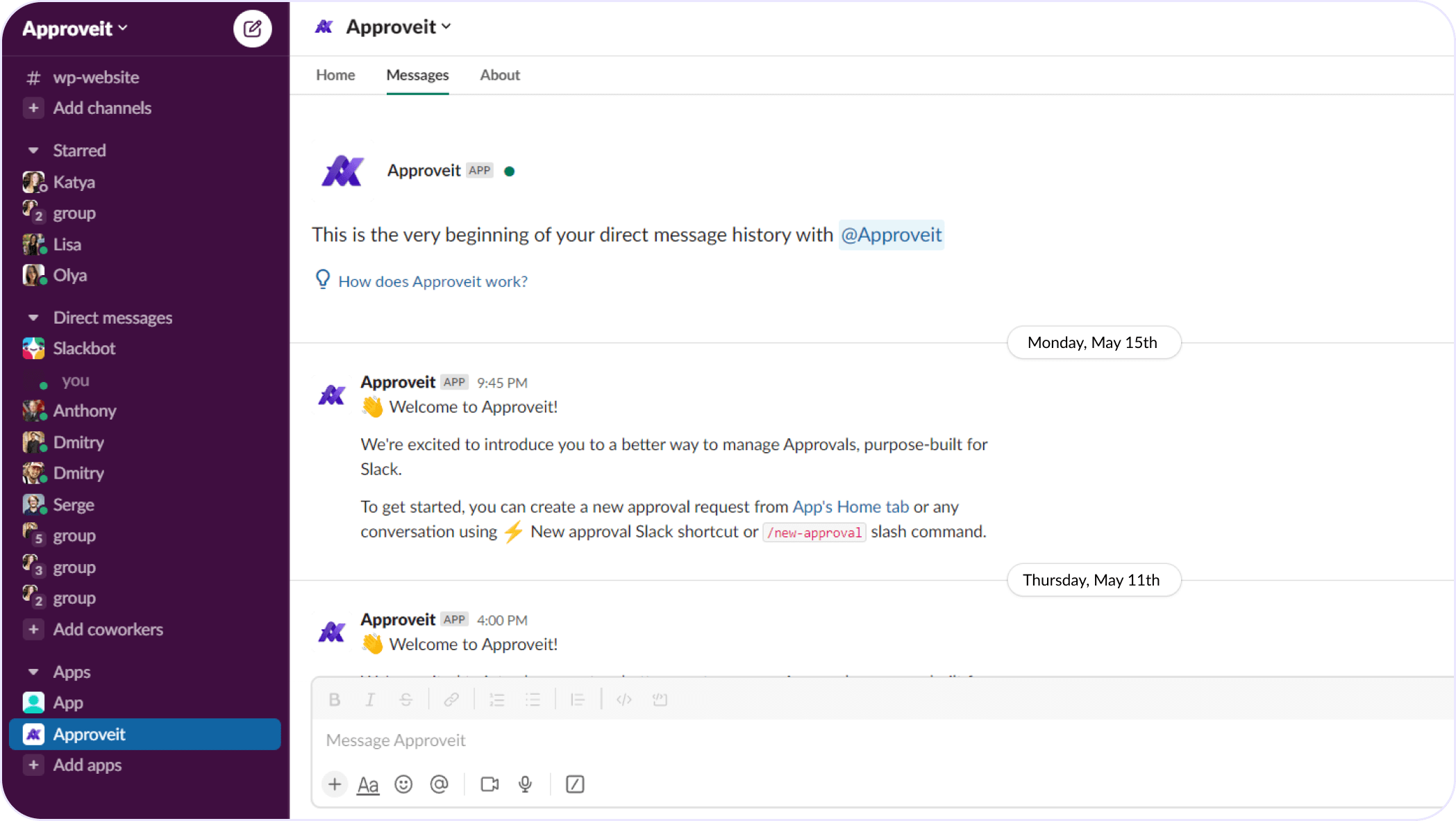 You can also sign-up using your email address in which case you need to manually invite every member of your organization and that might take more than 5 minutes to be honest.
The onboarding experience with Approveit is smooth and the first thing you notice when you use it is how easy it is to navigate the web app. You see two big buttons at the top, one for creating requests and the other for creating new workflows, which again is a breeze with text and video guides at every step.
One great thing about Approveit's UI/UX is that it never makes you feel lost.
ApprovalMax
When it comes to signing up for ApprovalMax, one thing you'll quickly notice is that you cannot use Slack as a sign-up option. Instead, you can sign-up using your Google or Xero account, or by creating a new account using your email and manually filling out a small form to create your password.
The onboarding process for ApprovalMax is relatively easy, especially if you choose to sign-up using your Xero account. This option automatically fetches all of your vendor details, previous financial records, and employee details, which can save you a lot of time and effort during the setup process.
While signing up using your Google or email takes more than 5 minutes and a little more effort than other modes, it is still pretty straightforward to figure out.
The real issue is after you get into the app because the dashboard is nowhere near as intuitive as Approveit.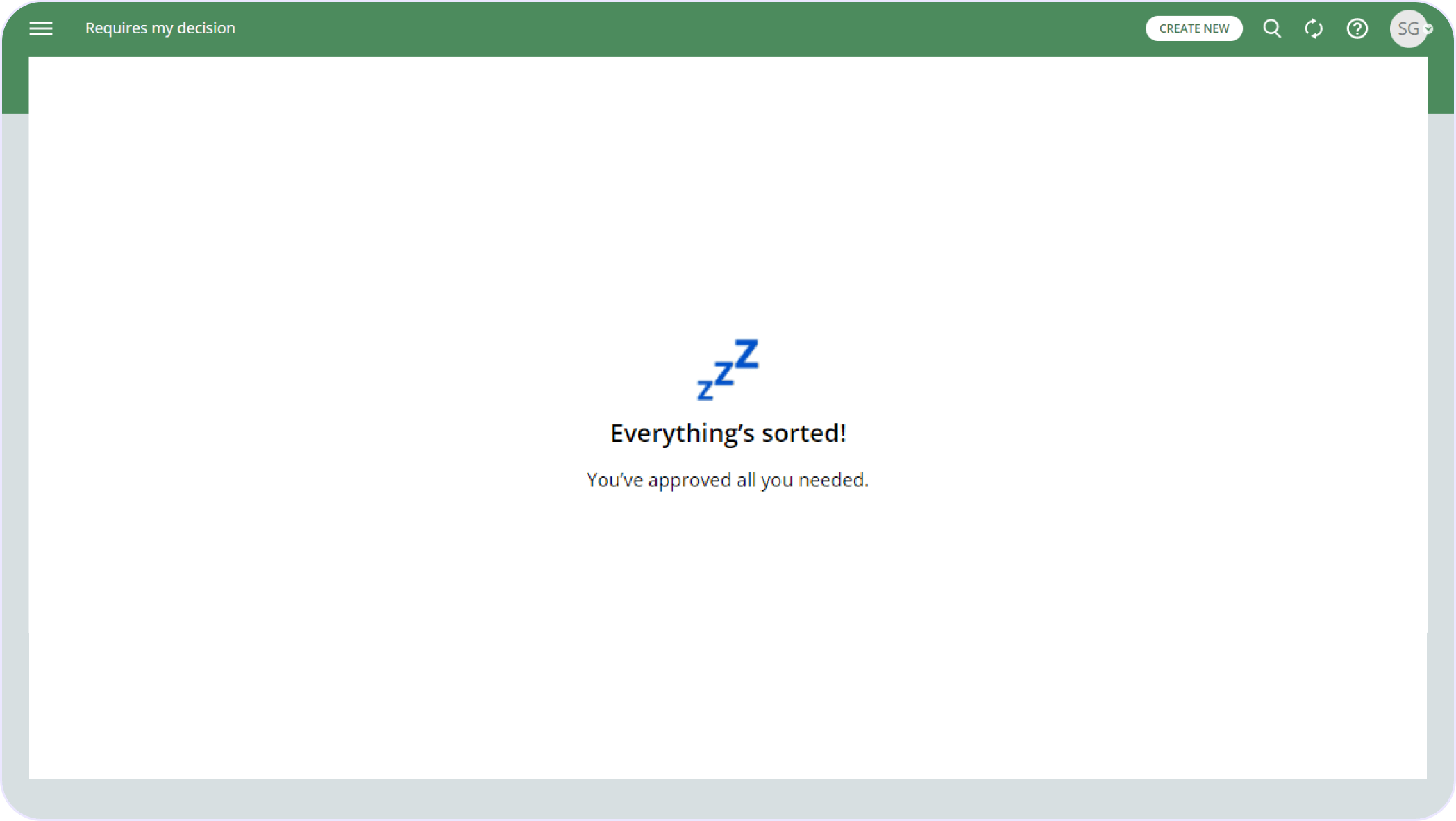 The option to send and approve requests on this platform is only visible after clicking the menu at the top left corner, which is a significant drawback since the platform lacks Slack integrations. This means more users would have to rely on the web app to access advanced features, and given the platform's subpar UI/UX, your employees would struggle with it.
Both platforms offer a cardless free trial so you can get a feel of the onboarding and the UI/UX of these platforms yourself.
Comparing Features: Approveit Vs ApprovalMax
We've formulated a table to compare and give you a birds-eye-view of the features of these platforms: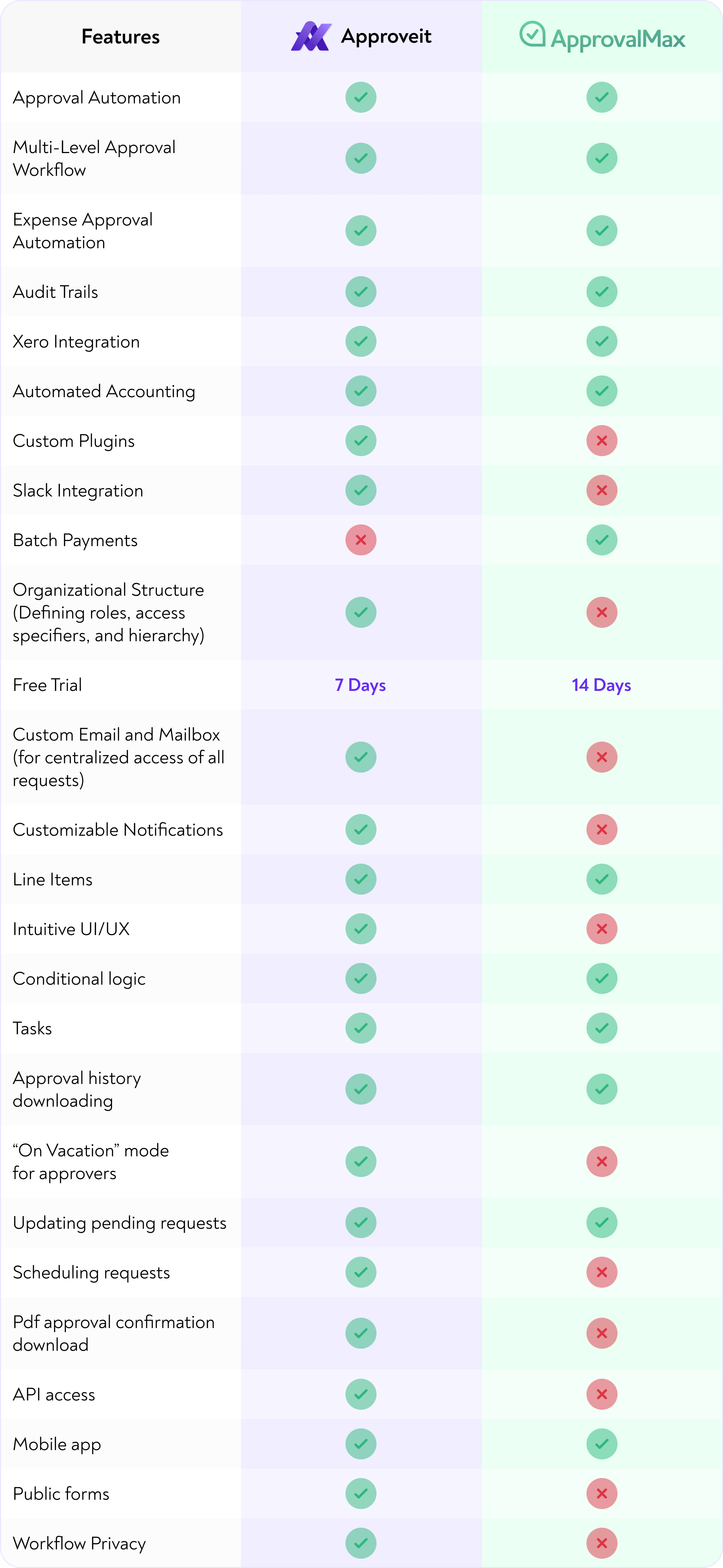 Creating and Setting Up Workflows
Creating and managing workflows is a central function of both these platforms and therefore an important metric to judge their utility and practicality. Here's how both platforms bid against each other when it comes to creating and setting up workflows.
Approveit
In Approveit, creating a new workflow is a breeze. Simply click on the "Create New Workflow" button on the dashboard and choose use cases from various verticals such as IT, HR, and Finance in the next step, as shown in the image below: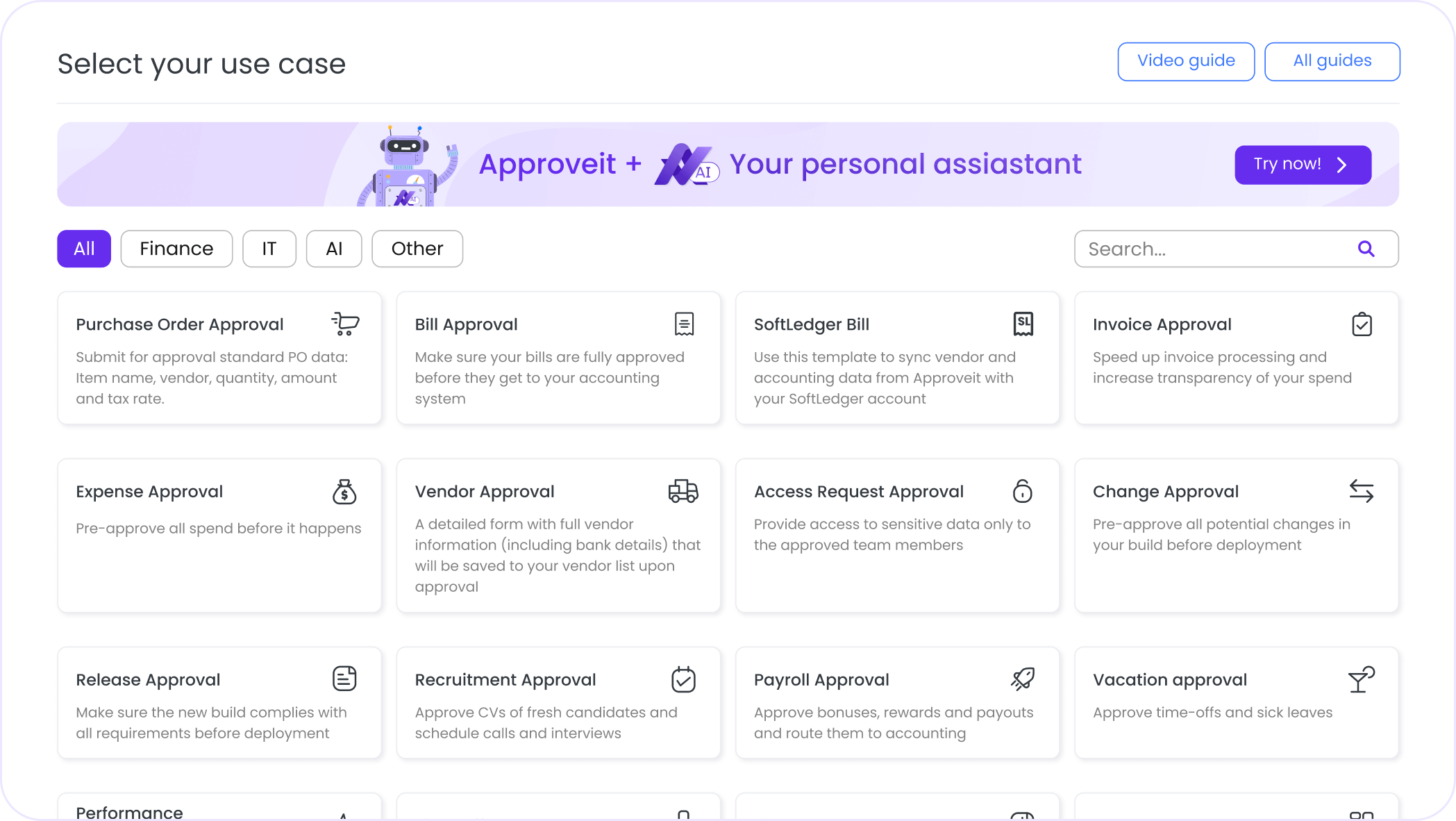 As you set up your workflows using Approveit, you'll find the process to be straightforward and user-friendly. First, you can name your workflow and add or choose the category from a simple drop-down menu. Then, you have the option to receive request notifications via Slack or email – whichever you prefer.
One of the standout features of Approveit is the ability to set up workflows in a way that allows people to directly send you approval requests via a specialized email created for you by Approveit. This means that your team members or clients can request approvals without having to access the web-app or your Slack workspace.
You can access text or video tutorials anytime to guide you through the setup process.
With Approveit, you can create multi-level approval structures with multiple approvers and complex rules that use conditional logic. However, activating this feature can be a bit tricky, as you need to scroll down to the bottom of the window in the next step to enable conditional logic. If you find yourself struggling with this step, don't hesitate to access the guides to help you navigate through it.
While we did face some issues when adding new vendors to an existing workflow, our experience was positive as the customer support team was able to instantly resolve our query when we addressed it in the "Chat with us" section. This was a task that we were unable to accomplish with ApprovalMax due to their customer support team failing to respond to our query.
Overall, Approveit provides a user-friendly experience and has a helpful support team available to assist you with any issues you may encounter.
ApprovalMax
Okay, so you won't find setting up workflows in ApprovalMax as convenient as you did on Approveit and there are two reasons for it:
It is tricky to locate the "Approval Workflows" section thanks to the sub-par UI
There are limited guides in ApprovalMax and although the individual guides are really helpful, the fact that they are not added to the steps themselves is a clear disadvantage
Anyway, once you do get to your workflow setup, you can choose from various AR or AP workflows that fetch data from your Xero account or you can set up a standalone workflow. Things get better at this point because the next step has better UI.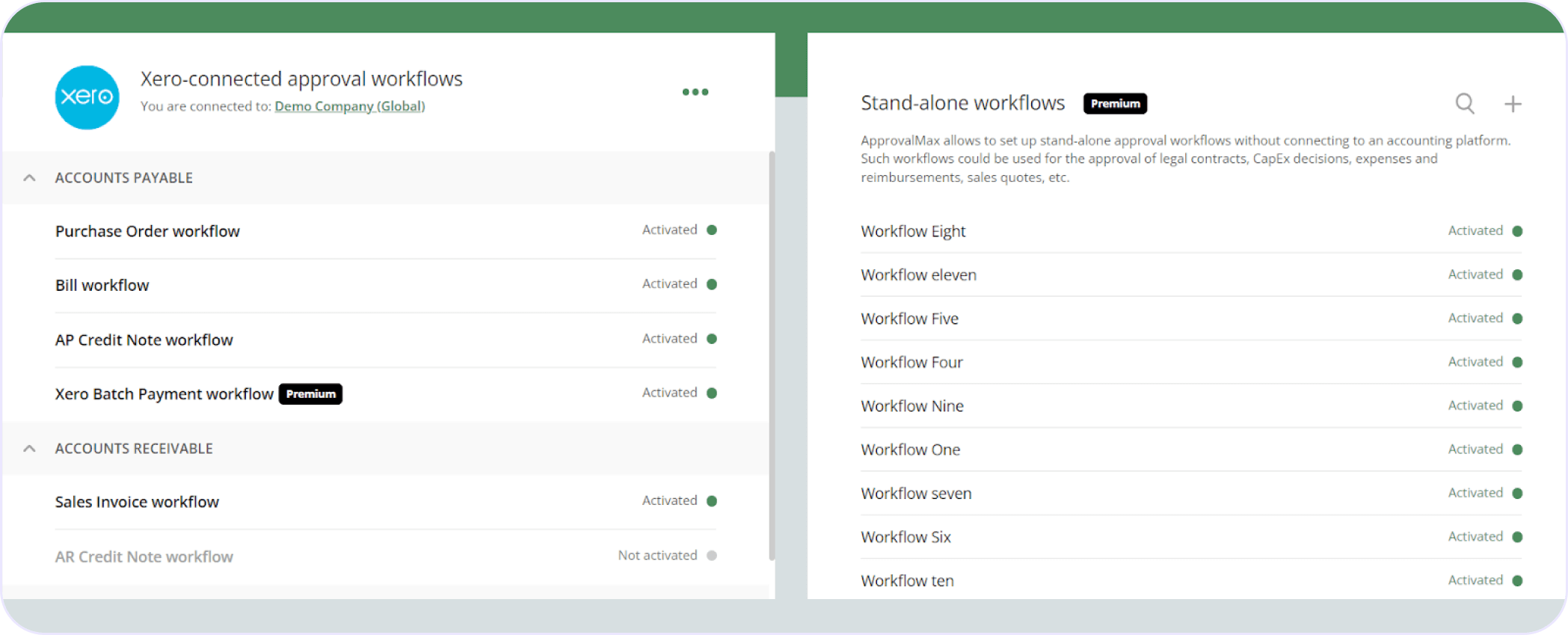 When you start creating the workflow, things get easier because setting up sequential approval steps is easier in ApproavlMax than it is in Approveit, all thanks to the "Approval Matrix" that lets you set up your conditional logic.
Integrations: Approveit vs ApprovalMax
Approveit
Integrations Available: Slack, Xero, Quickbooks, Freshbooks, Zapier, Jira
Approveit takes the crown when it comes to integrations. Not just because it offers more integrations than ApprovalMax, but because of the way it uses them. Take Slack for instance, it doesn't rely on Slack's features to be better, it enhances the utility of Slack by adding its bot to the Slack workspace.
With all the features accessible from Slack itself, it spares you the hassle of adding another sophisticated software to your workflow and getting your employees used to it.
Integrating Xero with Approveit simplifies workflow creation as you can export the necessary details from Xero instead of manually entering them. With access to your financial records, Approveit ensures compliance with the budget and eliminates discrepancies in approved requests.
Oh, and you can integrate any tool, platform or software with Approveit thanks to Zapier and API access.
ApprovalMax
Integrations Available: Xero, Dext, Quickbooks, Dear Inventory, and Netsuite
ApprovalMax fails to shine when it comes to integrations because the software's standalone utility is comparatively lesser when compared to Approveit.
Although, you do see a spark when you integrate it with Xero.
The financial use cases of ApprovalMax are far more sophisticated and specialized. You can set up batch payment approvals that allow you to send and approve hundreds of bills at once.
Approvalmax excels in financial use cases such as matching bills to purchase orders and expenses with the budget to avoid discrepancies. However, it lacks Slack integration, making it difficult for employees to adapt to the platform.
The standalone utility of ApprovalMax is notably less when compared to Approveit. It is primarily dependent on integrations for it's utility, and therefore lacks a certain degree of character. The use cases are limited by the integrations.
Core Competencies: Approveit vs ApprovalMax
Approveit
With Approveit the focus is truly on convenience and ease of use across all verticals of an organization. The platform intends to streamline operations using automated workflows and smart integrations so that people no longer have to waste time on unnecessary tasks like waiting for approvals, and manual accounting.
ApprovalMax
The use cases of ApprovalMax are more aligned with the accounting team of your organization and it does make things easier for them by automating all manual processes and offering an audit trail to ensure accurate reporting.
Pricing: Approveit Vs ApprovalMax
Approveit offers three basic plans:
Advanced plan at $349/month
Pro plan at $559/month
Pro-Plus plan at a custom pricing
However, Approveit offers flexible rates, depending on the specifics of your business and the number of requests a month you require to process.
There are special discounts for non-profit organizations.
ApprovalMax offers three plans as well:
Standard plan at $36.67/month
Advanced plan at $57.50/month
Premium plan at $82.50/month
Now, if you just look at the numbers, ApprovalMax looks like a bargain. But it's not just about numbers, is it?
What about convenience, flexibility, ease of use, utility, and practicality?
If you consider these parameters and look at the numbers again, Approveit offers more than enough value for the money.
Conclusion:
While we were testing both these platforms and comparing their features side-by-side, we truly felt that Approveit was a great ApprovalMax alternative owing to its intuitiveness and versatility. It embraces the essence of approval automation by offering approval workflows across all the different verticals of the organization, not just finance.
It offers a consolidated platform for monitoring all your approval requests and an audit trail of approval confirmation so that the accountant never has to think twice about adding an expense to a report. With all manual processes automated and systemized workflows in place to streamline financial operations, executives can focus on pivotal tasks like strategizing and planning for expansion.
Author
Anthony Zharsky
Enjoyed the reading?
Subscribe to our fresh artiles, product updates and news