5 best SaaS products for your expense approval management
The world is becoming more interconnected, raising the popularity of easy-to-use and interoperable payment and budgeting options along the way. Today's market offers a myriad of payment products but with that, it may be difficult to keep track of when and where your company has spent money.
To help founders and financial officers improve budget control — including cash flow issues, reimbursement delays, lack of documentation, failure to notify both ends of the approval flow, and missing approval requests, to say the least — there are software solutions that reinvent corporate expense management.
Let's delve into the top-five projects and see how they can reimagine approval workflow for you.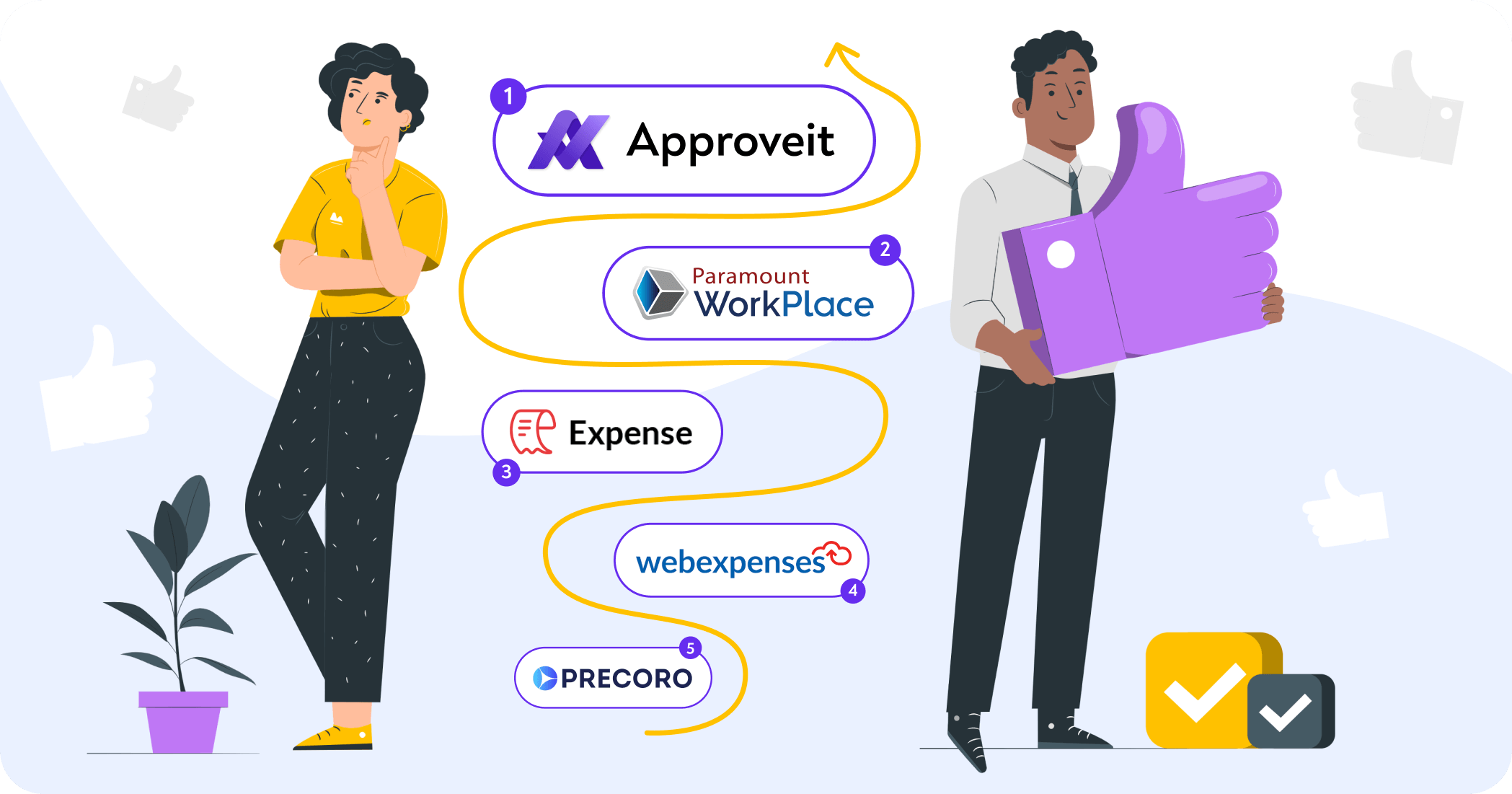 This expense management SaaS will especially be interesting to enterprises and small and medium businesses (SMBs) employing 50 to 500 people. It allows you to both oversee your business and take care of your subordinates by creating efficient workflow automation within minutes.
Approveit offers seamless direct and no-code integration with over 3,000 apps, including Slack integration, and API access for custom cases. When using the software, you can define who has access to certain files, check approval history, and enable your teammates to keep track of the approval process.
With Approveit, you can build approval workflows across IT, Marketing, HR, and Finance departments. The software is tailored to provide specific approval automation options like new software implementation, ad campaigns, employee onboarding, or new vendors. Approveit promises to speed up approval cycles by up to 70%.
The project offers a free 7-day trial so you can test the tool before subscribing to the $99-per-month Advanced plan or Enterprise one suitable for companies with multiple departments.
AP automation, procurement, document management, fundraising automation, payments, analytics, and reporting is what Paramount Workspace was developed for. The platform can be easily integrated with your existing ERP, thus, automating internal processes and improving communication within the company.
The software allows you to set any approval rules and policies and make travel plans, among other options. The project has multi-currency and multi-language capabilities, however, it focuses primarily on health care, higher education, and nonprofit organizations of all sizes.
Paramount Workspace says it delivers 70%-faster approvals but does not reveal its subscription plans and pricing. Instead, it asks you to complete a form to get a personalized plan. Still, you can request a demo and see whether it's worth it!
Zoho Expense is capable of expense approval and management streamlining corporate travel, automating expense reporting, and providing financial insights about the company's spending. The project serves small and growing businesses and offers integrations with travel, HRMS, accounting, and ERP solutions.
Its custom features, Zoho Books and Zoho Invoice, allow for the auto import of approved expenses into your Zoho Books account and having approved expenses automatically moved to your Zoho Invoice account for billing.
To small businesses and freelancers, Zoho offers a free plan, with a limited user number, storage volume, and receipt auto-scans. The other plans — Standard, Premium, and Enterprise — go with a per-user payment per month.
Budget approval software Webexpenses offers a solution to businesses of all sizes and industries. Just like the abovementioned SaaS, it simplifies and automates invoice processing, payments, expense auditing, and corporate travel expense management. To be more precise, you can reimburse employee expenses, manage reconciliations, increase visibility with drag-and-drop reporting, and enjoy a built-in compliance tool, among other functions.
Webexpenses can be integrated into your existing financial and HR software supporting a slew of solutions such as Sage, SAP, Pronto, Era Link, and ASW, among others. Founded in 2000, the company serves more than 300,000 users globally.
The pricing is unclear as the project offers custom pricing packages or an online calculator, using which you can see an approximate price based on the number of users.
Precoro is a procurement software designed to eliminate manual work, coordinate purchasing processes, and reduce expenses. It generates POs and automatically sends them to suppliers and they become email approval so that there is no more need for Excel and PDF orders.
According to the tool developers, it improves the speed of the approval workflow by 90%, including workflows for locations, departments, approval thresholds and policies, and mobile-ready approvals. Precoro's customers are enterprises and SMBs operating in biotech, technology, manufacturing, construction, healthcare, and hospitality.
Precoro offers two plans, small and large, with up to 20 and more than 20 users respectively. The small one costs $35 per month per user, while the large plan seems to be up to discussion.
More efficiency, fewer errors
A study by U.S. Bank says that a staggering 82% of companies fail because of poor management of cash flow and finance processes. This may seem disturbing, but, in fact, there is nothing left to fear anymore!
It is natural to want your company to proliferate and reach new heights, but proliferation goes hand in hand with innovation. And if you still doubt that your company needs a tool to automate processes in finance, take a moment and think about whether the following issues are a part of your team's daily workflow:
time-consuming processes like preparing figures or assessing the project's market position,
difficulties when it comes to data consolidation and coordination,
overreliance on Excel, which does not allow for tracking who makes changes,
sensitive data usage and sharing, such as company secrets or plans.
Automation tools make it possible to turn manual processes that take time into instantaneous transactions resulting in greater efficiency and accuracy. As it fairly comes from the aforementioned issues, expense management SaaS helps your company save time, reduce the likelihood of errors and fraudulent activity, achieve greater consistency, and collect data.
What's more, it will definitely make your team happier since they will not be tasked with outdated finance processes anymore, thus, focusing on other high-priority issues.
The key point in choosing an expense approval software is always to remember that it should save you money. Some enterprise-level solutions may look impressive yet be too bulky or expensive for a small or medium entity. Aligning your business goals with the software's capabilities will help make the right choice.
Author
Anthony Zharsky
Enjoyed the reading?
Subscribe to our fresh artiles, product updates and news