Bill & Invoice approval right in Slack & Microsoft Teams
User-friendly and intuitive platform to simplify and speed up approval process and automate bill, invoice and purchase order management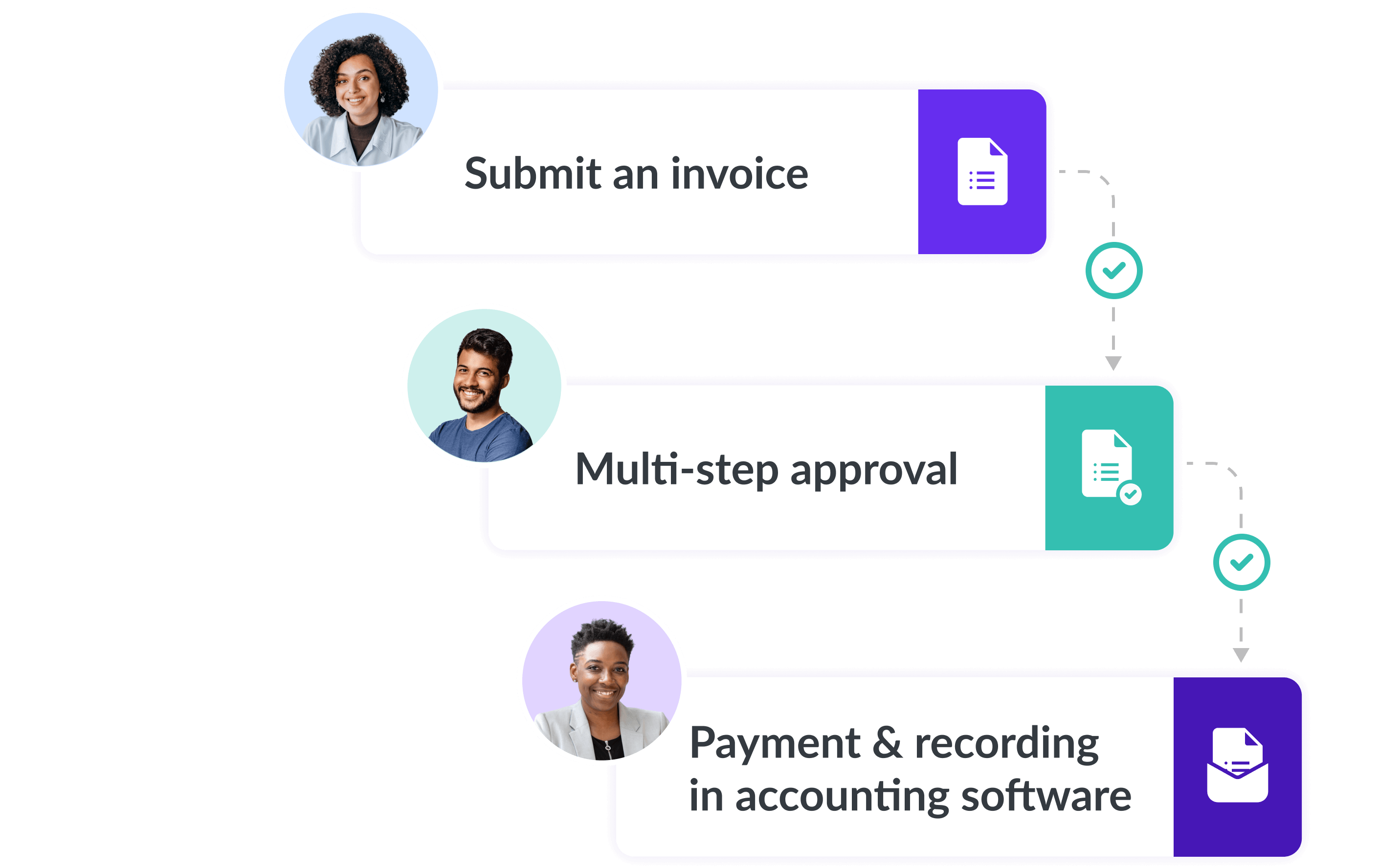 Trusted by over 1500 companies
Create your seamless bill approval workflow
Route bills & invoices to different approvers depending on the billed ammount, category, acount or any other parameter


Approve Bills & Invoices right in Slack, Microsoft Teams and Webex!
Full power of approval automation right in your Slack, Microsoft Teams, and Webex workspace. Automatically send notifications and follow-ups, streamline approval workflows, and cut the response time in more then half.
Learn more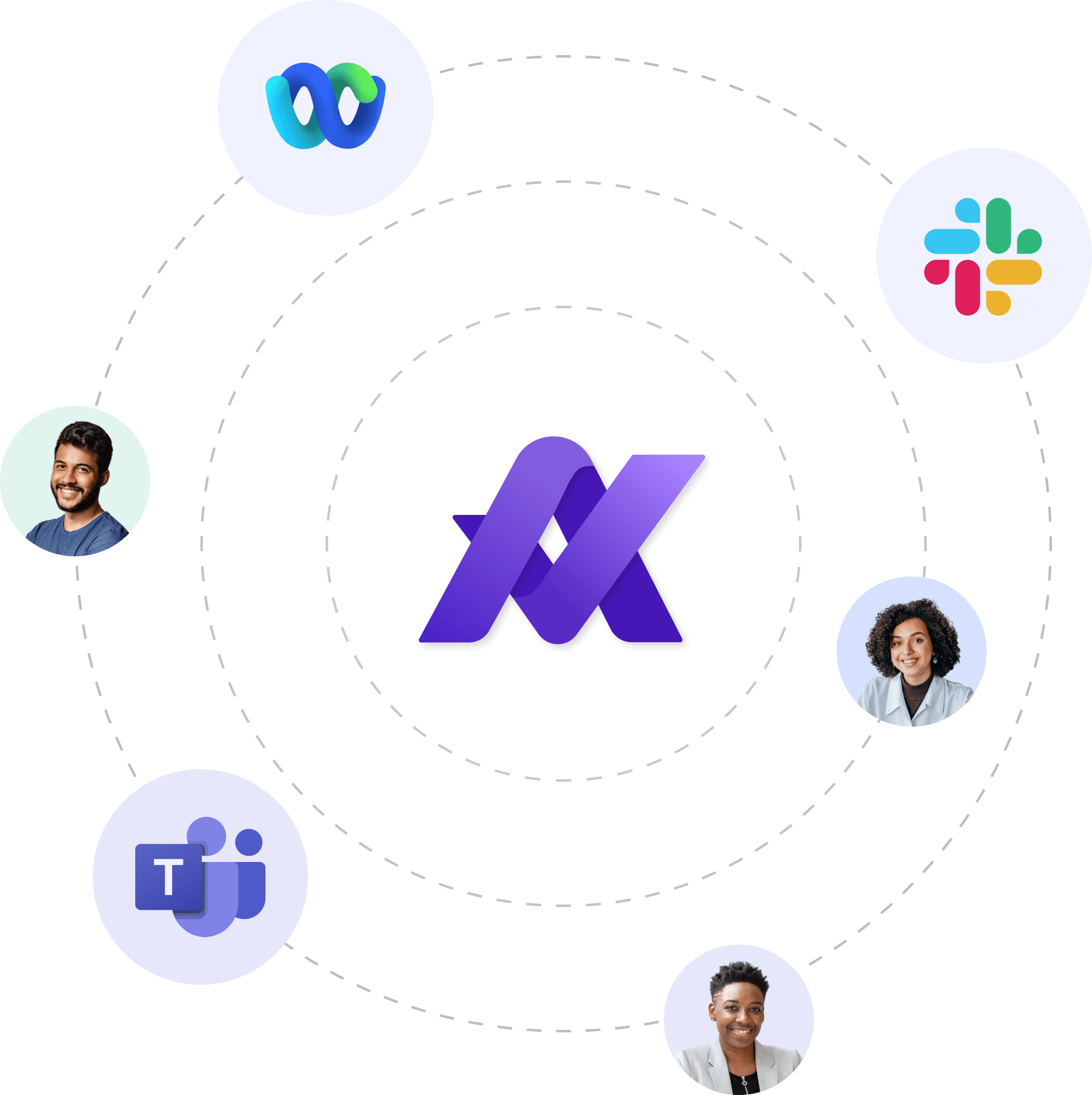 Simple solution for managing procurement

Purchase orders
Create POs and automatically route them for approval
Link bills to purchase orders in one click
Audit your procurement easily with all POs in one place
Vendors can see approved POs instantly
Learn more
Contracts
Catalog existing vendor contracts
Get reminders about contract expiration
Approve contract terms and conditions
Make important notes
Learn more

Cost centers
Plan your spending in advance
Allocate budgets for every department or project
Make sure you don't exceed the allocated amounts
Forecast your spending for better planning
Powerful feature pack to set up your custom approval process
We tailor your approval workflows to your needs, introduce maximum automation and keep it simple for the end-users with Approveit's extensive and intuitive features
Get started
Convenient ways to submit bills & invoices
Choose your own friction-free way to deal with incoming bills and invoices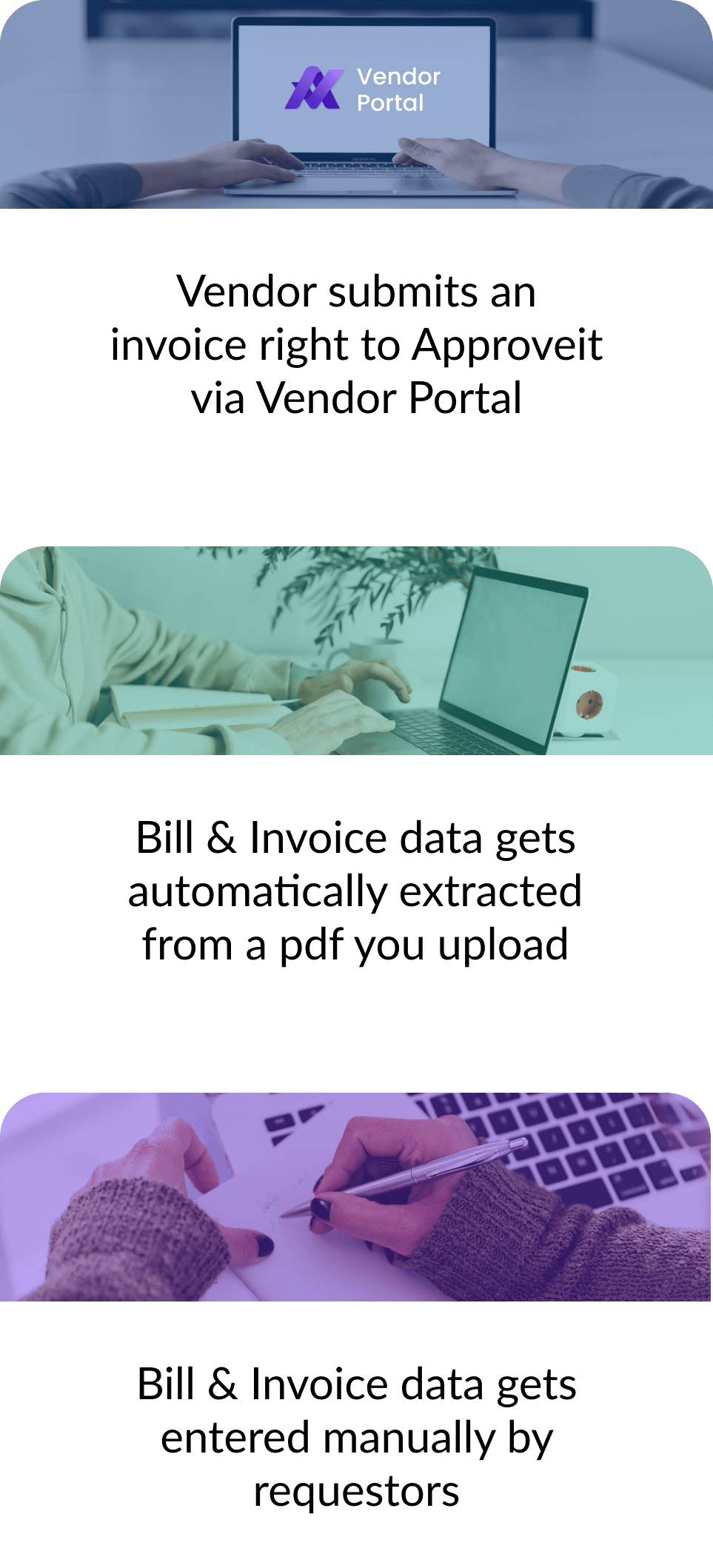 Integrate with over 100 apps
Connect Approveit to your favourite apps to completely eliminate manual data copying from system to system
Xero
Complete approval automation for Xero: invoices, bills, purchase orders
Quickbooks
Simplify your purchase order approval process and automate post-approval actions
FreshBooks
Automatically transfer approved bills to FreshBooks
Jira
Explore how Approveit can enhance your Jira experience
Zapier
Zapier allows no-code integrations with 5000+ apps
Need more?
Request API access to create your own custom integrations
Get started
What would you like to know about Approveit?
100% yes. We are proud to say that Approveit can be used for approving literally anything: petrol usage, sermon plan, flower orders, farming equipment maintenance… We've only listed the most common use cases on our website. Any business that has the process of approvals (so basically any business) will benefit from using Approveit. If you're not sure how to apply Approveit to your use case, book a demo with us! We'll show you how everything works and share our ideas with great pleasure.
Our team invests a lot of effot into making Approveit the #1 platform for bills & invoices processing, and we would love for you to fully experience the product before you commit to bringing your workflows to us. That is why we offer you a pilot month for $99 only. That time is usually enough for our customers to feel the value of our product, experience the convenience it brings and approciate the new order it creates in your finances. Once you've activated your pilot month, our team will guide you through the onboarding process and provide you with any assistance you might need on the way. During your pilot month we are at your disposal 24/7 and our customer care is just one message away!
The answer is yes, regardless of how you finish that sentence:) There are three ways to get the integration: Direct integrations. Right now they are available with SoftLedger, XERO, QuickBooks Online, FreshBooks, and Jira. We are adding more gradually based on your requests, so don't hesitate to suggest! Integration through Zapier. Zapier allows us to offer you no-code integrations with 3000+ apps! It's really quite fascinating. Custom API integrations. You can set up any specific integration you require and our team will be happy to assist you.
Once you've signed up for Approveit, we offer you our complete support in setting everything up. A personal manager is assigned to your account. They will get on a call with you and personally guide you through the setup process, show you everything you need to know about Approveit's features, and answer any of your support queries. Our help is available 24/7 in our in-app support chat, or at support@approveit.today
Have more questions? Let us know
We personally guide you through the setup process, tailoring Approveit to your needs

Be the first to know
Subscribe to receive our updates and the latest tips on improving your approval workflows